Special Lecture on Islam Mein Aurton Ki Ilmi Wa Adbi Khidmaat was organized by the Dept. of Arabic in collaboration of IQAC (Internal Quality Assurance Cell) at Hamidia Girls' Degree College on 24th March, 2022 at 2:00 pm. The Chief Guest & Speaker was Dr. Shaykh Mahammad Akram Nadwi (Former Research Fellow, Oxford University, Dean Cambridge Islamic College, Cambridge, Director at Al Salam Institute, Oxford.
In his lecture he highlighted that Islam is the religion where muslim women are scholars 'Aalima' and used to give 'Fatwa'. He also gave various references of nine thousand highly educated women at that time who taught in Masjid-e-Nabwi, Masjid-e-Aqsa, Masjid-e-Haram and various other important places in Damishk, Misr and Shaam. He also pointed out that in 700 Hijri Fatima bint Ibrahim taught 'Bukhari Shareef' in Masjid-e-Nabwi. He also focused that women gave 'tarbiyat' to all 'Five Imams' of Islam religion. Lastly, he also motivated the students to come forward and educate themselves.
Mr. Farhanulla, Assistant manager, HGDC welcomed and appreciated the Guests for enlightening lecture and providing the valuable information regarding 'Ilmi Khidmaat' of women at that time. At this moment, he also remembered the fund raising movement for women education in the form of 'Mushaira' at Allahabad in which Late. Dilip Kumar Sb. and other famous 'Shayer' participated.
In his presidential address Dr. Anas Nadwi, General Manager, Australian National Imams Council, Sydney, Australia, focused on the achievement of the Chief Guest. He said that Dr. Mohammad Akram Nadwi Sb. is guiding us through his lecture, books and articles.
Earlier, Principal of the College delivered welcome address. She highlighted the contribution of Shaykh Mahammad Akram Nadwi in the field of Islam Mein Aurton Ki Ilmi Wa Adbi Khidmaat. She especially pointed out his Biographical Dictionary (Al-Muhaddisaat). In her speech she also gave the brief history of Hamidia Girls' Degree College, Allahabad. Vote of thanks was proposed by Dr. Sabiha Azmi, Coordinator, IQAC, HGDC. Dr. Siddeeqa Jabir, Assistant Professor, Dept. of Arabic, HGDC conducted the program.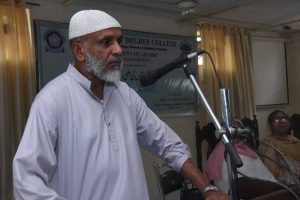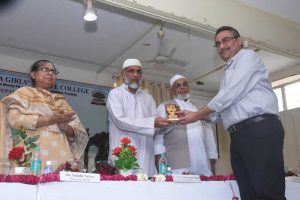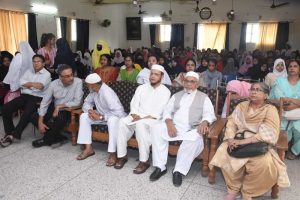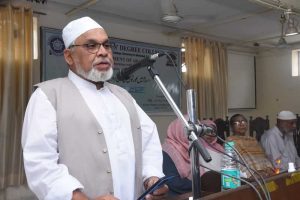 AROUND 200 STUDENTS PARTICIPATED IN THIS PROGRAM
————————————————
Department of Arabic,
Hamidia Girls' Degree College, (Constituent Minority P.G College)
University of Allahabad
In collaboration with IQAC.
Organizing
🔖 Online/Offline Special Lecture
on
🎯 اسلام میں عورتوں کی علمی و ادبی خدمات
'📝📚
🔊Speaker
Dr. Shaykh Mohammad Akram Nadwi
Former Research Fellow, Oxford University, Oxford
Dean Cambridge Islamic College, Cambridge
*24-March-2022 (Thursday) 2:00 p.m.
Note :
📌 Attending full lecture & filling up the feedback form is mandatory.
📌 Feedback link will be posted in the Chatbox during the lecture .
📌 We solicit your kind Co-operation for the smooth conduct of the lecture .
With Regards,
Dr. Siddeeqa Jabir
Assistant Professor
Department of Arabic, HGDC
Join Zoom Meeting
https://us06web.zoom.us/j/85037132202?pwd=N0lsZjduUERPV2JXVXJEcTgyU1JiZz09
Meeting ID: 850 3713 2202
Passcode: 12345
ONLINE RESPONSE