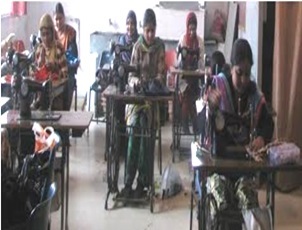 CREATIVE FASHION CENTRE'S journey began in 2011, the year of hard work, creativity and innovation. The Centre follows fashion trends and customer's purchasing preferences. We prepare our inventory to meet the specific needs of our shoppers. We solely focus on the latest styles and colors that fits to flatter the ladies. Designer dresses meeting the needs of the buyers is our specialty .Our customers are local as well as from other cities but we hope that we will increase our reach as we build our brand and secure our image.
Our Principal recognizes the importance of skill in fashion design and dignity of labour and to that end she plans to promote the proficiency of our students. Therefore, she sent a proposal to UGC which was approved and B.VOC. Degree Programme in Fashion Design and Embroidery was sanctioned and now the chance to merge CFC in a big scheme under B.VOC so that students can fit in job roles of the Fashion and Textiles industries and then they will be able to infuse creativity and' professional outlook in their designs.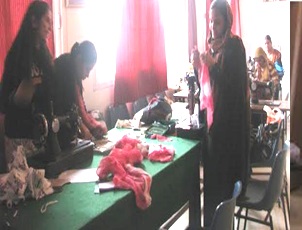 CFC's core idea is to put inspiration and imagination together and is an apt place for the ladies to choose from effective garbing. Our idea is to design clothes for women according to the feel and look they want and enhancing it.CFC features clothing which is a beautiful blend of traditionalism and modernity – sarees, salwar-kameez, kurtis, designer suits, gharara and lehngas etc. At the moment they are prepared for "Earn While Learn". They are inspired by Indian life style and clothing and take keen interest in tailoring the clothes. It encourages them and gives an opportunity to our deft and competent students. This year again students did a certificate course in "Cutting and Sewing"
CFC is a place which creates just the right magic for you to feel comfortable .Get the finest services at most reasonable rates with personal touch and swift delivery.