A Programme on MISSION SHAKTI, CYBER SECURITY AND TRAFFIC  AWARENESS programme was organized by Hamidia Girls' Degree College, Constituent Minority PG College, University of Allahabad, Prayagraj under the direction of U.P. Government and U.P. Police, Prayagraj. The Chief Guest of the function was  Shri Shailesh Kumar Pandey IPS, SSP, Prayagraj. On this occasion plantation was done by the Chief Guest. This event was organized by Dr. Amna Farooqui, Associate Professor , Dept. of Geography and Dr. Nuzhat Fatima, Assistant Professor, Dept. of Medieval History, HGDC. He highlighted the importance of awareness regarding Traffic Rules, Cyber Security and Women Empowerment. He stressed that IT is very useful yet it has flaws. People do fraud and crime through it. We should be cautious regarding these points. He gave various examples of Cyber Crime and asked us to use IT judiciously. Security of life is very important, therefore we should follow the rules, change our attitude and approach regarding this. One should use the energy positively. He also elaborated that we know the rules regarding traffic but we don't implement it. There is need to fill the gap between awareness and implementation. He also pointed out that Women empowerment is a must for success in life. He emphasized that Women must be apart of decision making and this is possible only through education. He also appreciated the college for having vocational courses. It helps in making the student self-dependent. He said that the police is ready for security of the people, only the need is to understand our responsibilities.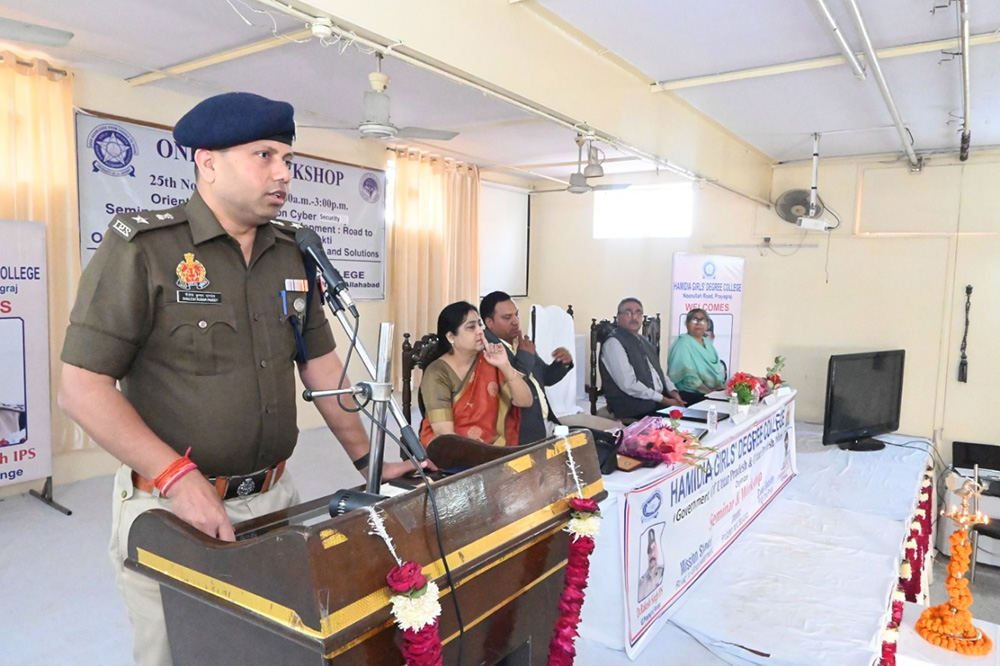 The Chief Guest Mr. Shailesh Kumar Pandey IPS, SSP, Prayagraj addressing the students
Earlier, the principal Dr. Yusufa Nafees delivered the Welcome address. Momentos and bouquet were presented to the Guests. She also provided information regarding college history. The Chief Guest of the function was Dr. Rakesh Singh IPS, IG, Prayagraj could not come and sent a message for the success of the program. The Manager of the college Mrs. Tazeen Ahsanulla also sent a message of blessings and hoped for the success of the event. The Event Organizer, Program Officer IG, Lavlesh Kumar also spoke on the occasion. He congratulated college for organizing such a relevant event. Presidential address was delivered by Mr. Mohd. Farhanulla, Assistant Manager, HGDC. He thanked the chief guest for providing such a relevant and useful information in a very interesting way. Dr. Sabiha Azmi, Associate Professor, Dept. of English, HGDC conducted the programme.
The main agenda of this program were workshops on CYBER SECURITY, MISSION SHAKTI AND TRAFFIC AWARENESS. The first session was conducted on 'Cyber Security'. On this occasion the chief speaker, Jai Prakash Singh, Thana, Prayagraj provided various information regarding the cyber crime and ask the students to be alert. He gave detailed information regarding the portal and the phone numbers through which complaint can be made and fraud can be avoided. The session was conducted by Dr. Shabnam Ara, Assistant Professor, Dept. of Geography, HGDC. Vote of thanks delivered by Dr. Gulshan Akhtar, Assistant Professor, Dept. of Economics, HGDC.
The second workshop on Mission Shakti  "Women and Skill Development : road to Empowerment"  the chief speaker, Poonam Shukla, Mahila Thana, Prayagraj, highlighted that Women Empowerment is necessary for fearless society. She stressed that we will have to believe in Police and Law. She provided information regarding various methods through which complaints can be made and lady police will help. In this way, ladies can be protected through Mahila Police. The programme was conducted by Dr. Erum Farid Usmani,  Associate Professor, Dept. of Sociology.
Third session was orientation programme on Traffic Problems and Solution. Mr. Pawan Pandey, Traffic Inspector, Prayagraj. He provided information regarding various traffic rules and made the students aware regarding all the rules such as  Stop-Go-Slow, Seat belt, Obey Speed Limit, Never Use Mobile While Driving and Be Polite. He further emphasized that there is need to implement these rules in life. He stressed on Human Sensitivity and Human Values. He motivated the students to follow the rules and also convince guardian for the same and try to change the thinking regarding these points. He appealed the students to follow all the Prescriptive, Informative and Indicative rules. Question Answer session was also arranged.
Rangoli competition were also judge by the Chief guest. This event was organized by Dr. Shahla Hasan, Associate Professor, Dept. of Painting and Dr. Nasreen Begum, Associate Professor, Dept. of Ancient History, HGDC.
On this occasion medals were distributed to meritorious students. Certificates were also distributed to students participating in different events by Chief Guest. Cultural event organized by Dr. Zareena Begum, Associate Professor, Dept. of Urdu, HGDC. Students presented College Tarana and Lakshya Geet. The programme ended with National Anthem.
The report was prepared under the guidance of Dr. Shama Rani, Associate Professor, Dept. of Education, HGDC.