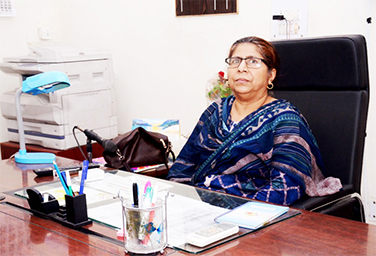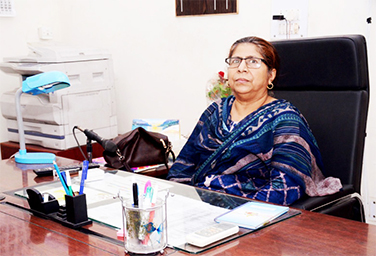 The Sustainable Development Goals (SDGs) of global plan emphasise upon gender equality and empowerment of all women and girls. This can be achieved through education as educated women contribute effectively towards the development of the society and nation.
Hamidia Girls' Degree College since its inception has been striving hard to extend quality education to the girl students of the densely populated, under privileged minority concentrated area. It was the vision of the founders to ensure the sustainable development of women by providing them opportunities of education. From 1975 onwards the college is making rigorous efforts and is successfully progressing in this direction. Presently it is rendering higher education in three faculties – Faculty of Arts, Commerce and Vocations. Approximately 2000 girls are enrolled in B.A., B.Com. and B.Voc. In the session 2016-17, University of Allahabad sanctioned post graduate courses to the colleges. The college took the initiative to start M.A. in four subjects – Urdu, English Literature, Medieval History and Sociology. We are hopeful that we will start M.A. in Education, Arabic and Persian also. It will take the college to greater heights opening new avenues of higher education and research. It has also fulfilled the dreams of those aspirants who lost their hopes for further studies.
The college in maintaining an ambience of co-operation and teamwork amidst management, staff members, students, alumni, university authorities and other stakeholders of the college. Besides conventional education, the college focuses on the skill development of young learners to fill the skill gap and make the students employable and self reliant. From the IX Plan to the XII five year plans of UGC, the college has been continuously marching ahead towards vocational, job oriented streams under the sincere leadership of Former Principal, Dr. Rehana Tariq (1991-2016). She channelized our energies towards quality, credibility and integrity. The college is trying to provide computer education to the students at degree, diploma and certificate levels. In order to ensure technological advancement and accessibility of computer education to girls, the college has registered itself for Massive Open Online Courses (MOOCs). The college authorities have made relentless efforts to furnish the college with well equipped labs. In this connection it has established fully equipped Computer Lab, Pattern Making and Drafting Lab, Stitching Lab/Workshop and Media Lab.
The college is committed to the integrated development of the students. Keeping the holistic approach in mind, student-centric extracurricular activities, seminars, symposiums, training programmes are a regular feature of the academic programmes. The college is striving hard to inculcate moral and ethical sensitivity so that the students may become conscious citizens of the nation and the world. It is a unique icon of modernity and traditions.
Dr. Yusufa Nafees (Principal)
HAMIDIA GIRLS' DEGREE COLLEGE
Constituent Minority College
University Of Allahabad