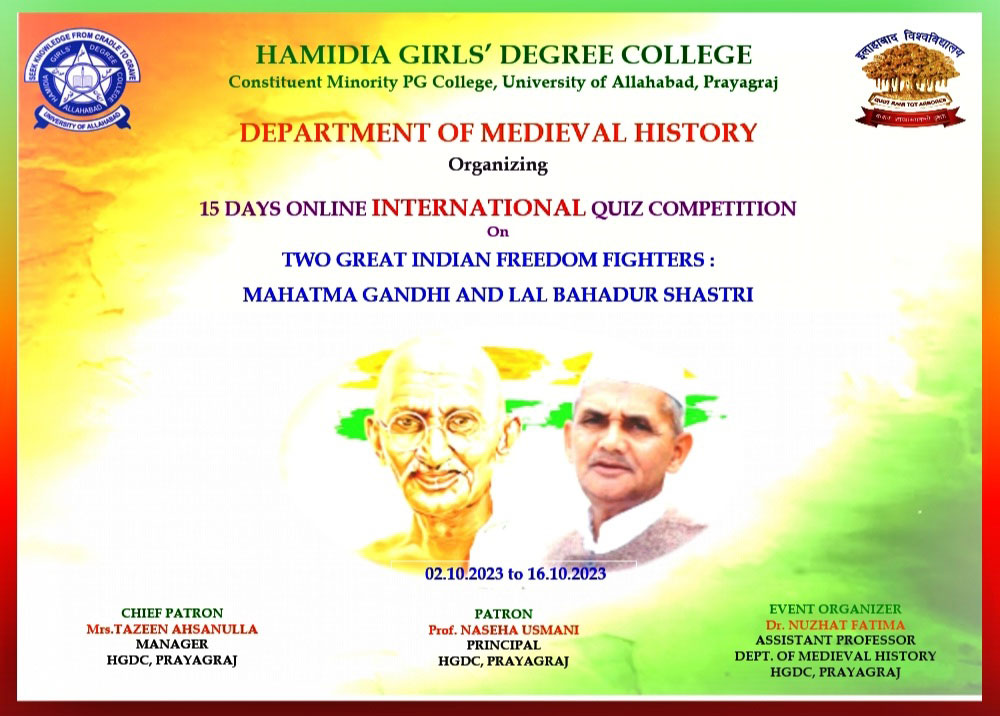 Dear Sir/Madam,
We are happy to inform you that Department of Medieval History is organizing 15 Days INTERNATIONAL Level Online QUIZ Programme on 'Two Indian Freedom Fighters : Mahatma Gandhi and Lal bahadur Shastri', 02.10.2023 – 16.10.2023
This is open to all the Faculty members, Research Scholars, UG, PG Students and General Public also.
Note :
*No Registration Fee
*Automatically generated E- Certificates will reach the participants who score 50% marks.
Quiz Link : https://forms.gle/YmLhDME4EixMCZbHA
TIME : N.A.
Thank you
with warm regards
CHIEF PATRON
𝐌𝐫𝐬. 𝐓𝐀𝐙𝐄𝐄𝐍 𝐀𝐇𝐒𝐀𝐍𝐔𝐋𝐋𝐀
MANAGER
HGDC, PRAYAGRAJ
PATRON
Prof. NASEHA USMANI
PRINCIPAL
HGDC, PRAYAGRAJ
EVENT ORGANIZER
𝐃𝐫. 𝐍𝐔𝐙𝐇𝐀𝐓 𝐅𝐀𝐓𝐈𝐌𝐀
ASSISTANT PROFESSOR
DEPT. OF MEDIEVAL HISTORY
HGDC, PRAYAGRAJ