Alami Yaum-e-Urdu was celebrated on 9/11/2023 by Bazm-e-Adab, Dept. of Urdu, Hamidia Girls' Degree College in Begum Khurshid Khwaja Hall of the college.
The program started with the recitation of Hamd presented by Miss Tahira Aman, student of M.A. Urdu, Sem-III. The guests were welcomed and presented green plants. Prof. Naseha Usmani, Principal, HGDC welcomed and introduced the guests on this occasion. The Chief Guest of the program, Prof. Baran Farooqui, Former Professor, Dept. of English, Jamia Millia Islamia, New Delhi and current Manager, Kidwai Memorial Girls Inter College, in her speech motivated the students to respect and promote their mother tongue. She said that if we deny our language and culture, we will deny our existence. It is essential to be fluent in our mother tongue and should avoid using other's mother tongue. She gave reference of various languages that were developed and how these languages and their script were interrelated with each other. She said that language is the key to identity. Language is only one part of what makes us who we are. It is our culture, values and experiences that make up our identity. Language plays a role in shaping our identity. It is the way we communicate our thoughts and feelings, and it can be a strong reflection of our cultural background. It can be a source of pride and a connection to their heritage. Learning the mother tongue well can help us to better understand our own identity. It can also give us a greater appreciation for the diversity of cultures in the world.
Prof. A.R. Siddiqui, Dept. of Geography, University of Allahabad, Prayagraj was the Guest of Honour of this programme. Addressing the audience, he said that the motive of organising these programmes is to know the relevance of classical literature and thoughts in present era. Changes are taking place rapidly in every field whether it be the Culture, Technology, Education and Lifestyle yet the relevancy of classical thoughts cannot be denied. Language and literature have a profound impact on society in various ways. They reflect and shape cultural values, transmit knowledge, foster empathy and understanding, and serve as a medium for social and political commentary.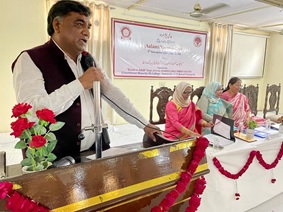 On this occasion inauguration of Calligraphy Exhibition "Ghubar-e-Meer" was also held. Chief Guest, Prof. Baran Farooqui inaugurated this exhibition by cutting the ribbon.

The book 'Tanqeed-o-Tabeer' by Dr. Zareena Begum, Associate Professor, Dept. of Urdu was also released on this occasion. Certificates were distributed to the winners of various competitions organized by the Dept. of Urdu. The programme was conducted by Dr. Zareena Begum, Associate Professor, Dept. of Urdu and Vote of Thanks was proposed by Dr. Shabnam Ara, Assistant Professor, Department of Geography. The program ended with the College Tarana.