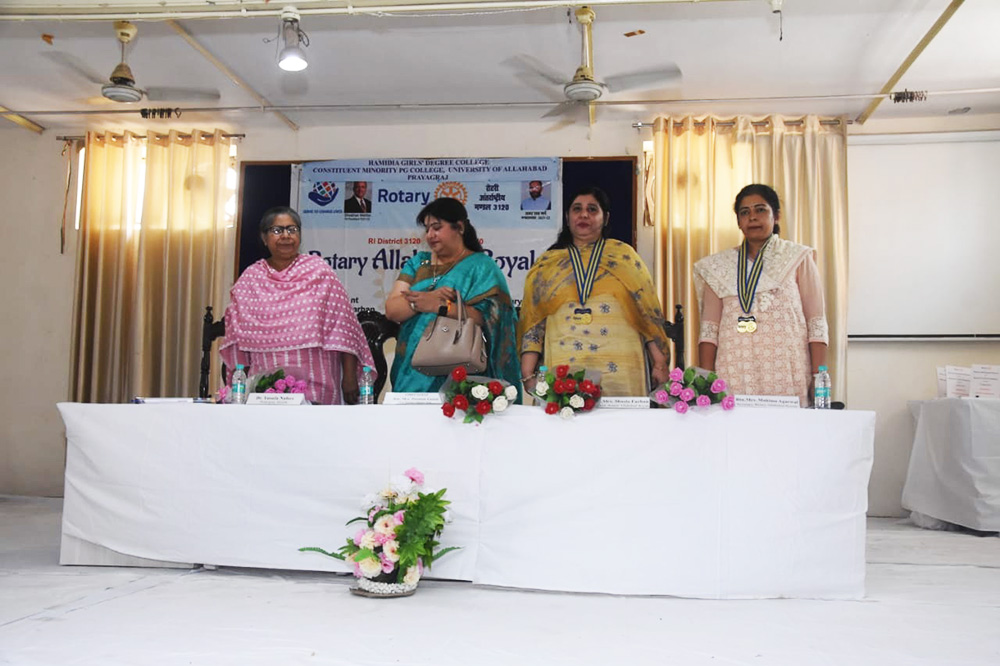 A programme TARANG was organized by Rotaract Club of SHAFAQ, HGDC in association with Rotary Allahabad Royals at Hamidia Girls' Degree College, Prayagraj on 2nd April, 2022 from 1:00 p.m. to 2:00 p.m.
Chief Guest, Rtn. Mrs. Poonam Gulati, A.G. Literacy, District 3120 appreciated the skit presented by the rotaractors of the College based on Women's Education. She further emphasized that the time has changed and women are transforming themselves from decorative women to educated women. She asked the students to develop their skills and hobbies in order to achieve success. In this context she gave the reference of Indira Nooyi, Former CEO of PepsiCo.
President of the Rotary Allahabad Royals, Rtn. Mrs. Shazia Farhan said that Rotary Club provides the opportunities for social and community services. It sharpens leadership qualities. She also motivated the students to utilize this platform. Secretary, Rotary Allahabad Royals, Rtn. Mrs. Mahima Agarwal announced free eye Check-up camp to be held in the next meeting.
Earlier, Principal of the College, Prof. Yusufa Nafees welcomed the Guests and she highlighted the history of the College. She also informed about the various courses running in the College. On this occasion prizes were distributed by the Guests for various competition organized by the College i.e. Poster making, Speech, Quiz, Mehndi application, Rangoli, Salad Dressing & Flower arrangement competitions etc.
Vote of thanks was proposed by Dr. Sabiha Azmi, Faculty Advisor, SHAFAQ, HGDC. The programme was conducted by Mrs. Naseha Usmani, Associate Professor, Dept. of Urdu, HGDC, Prayagraj.