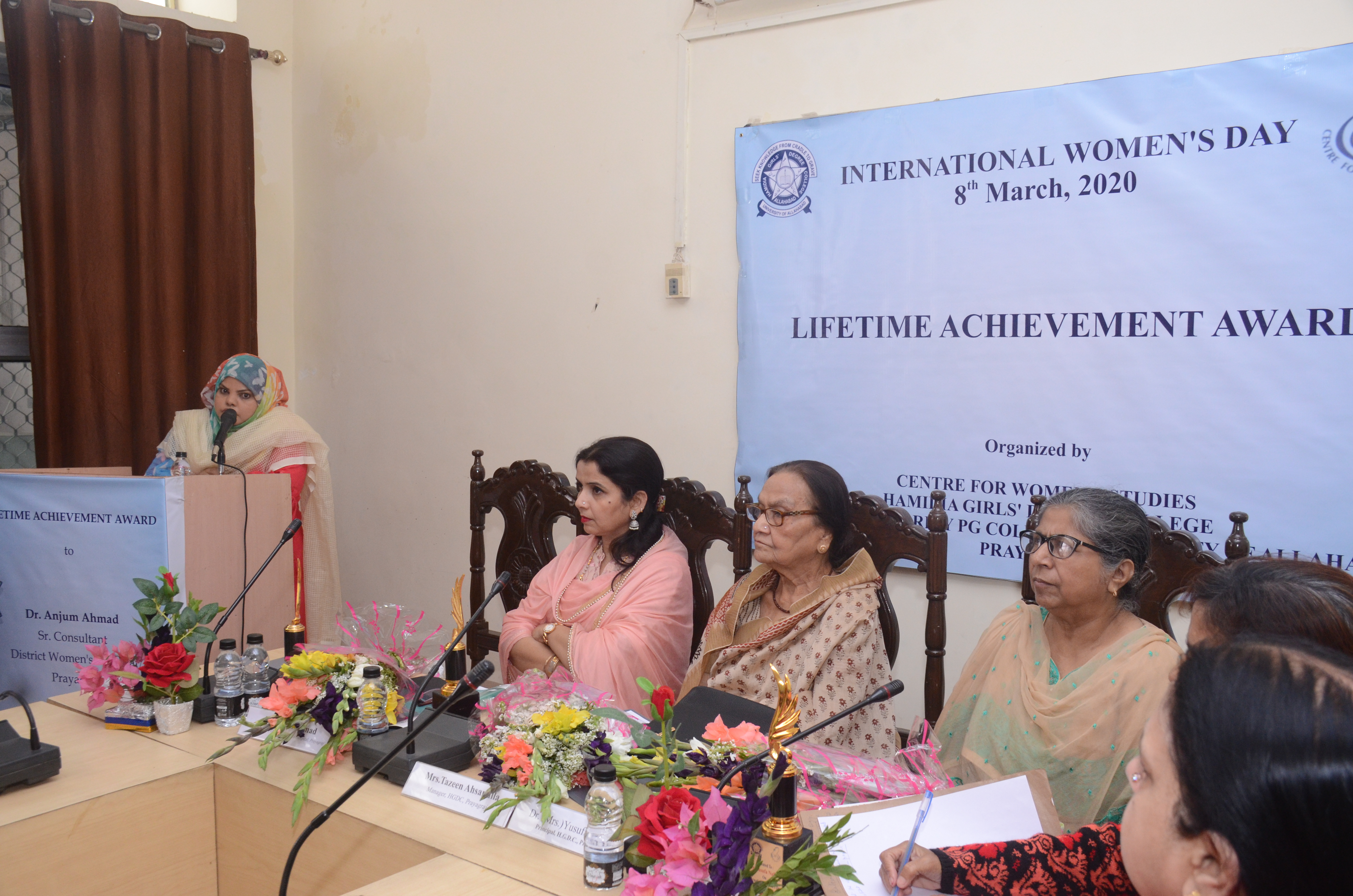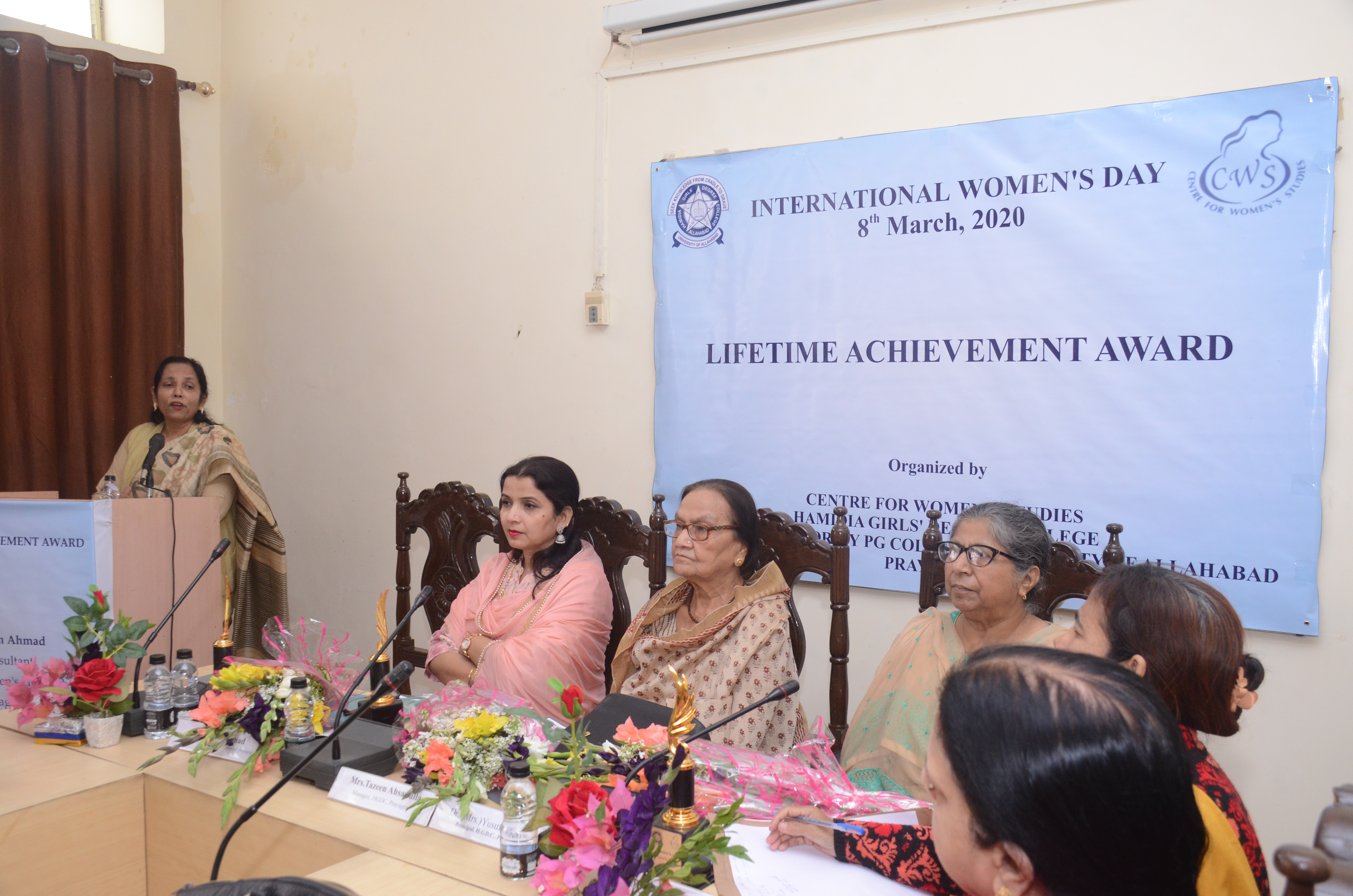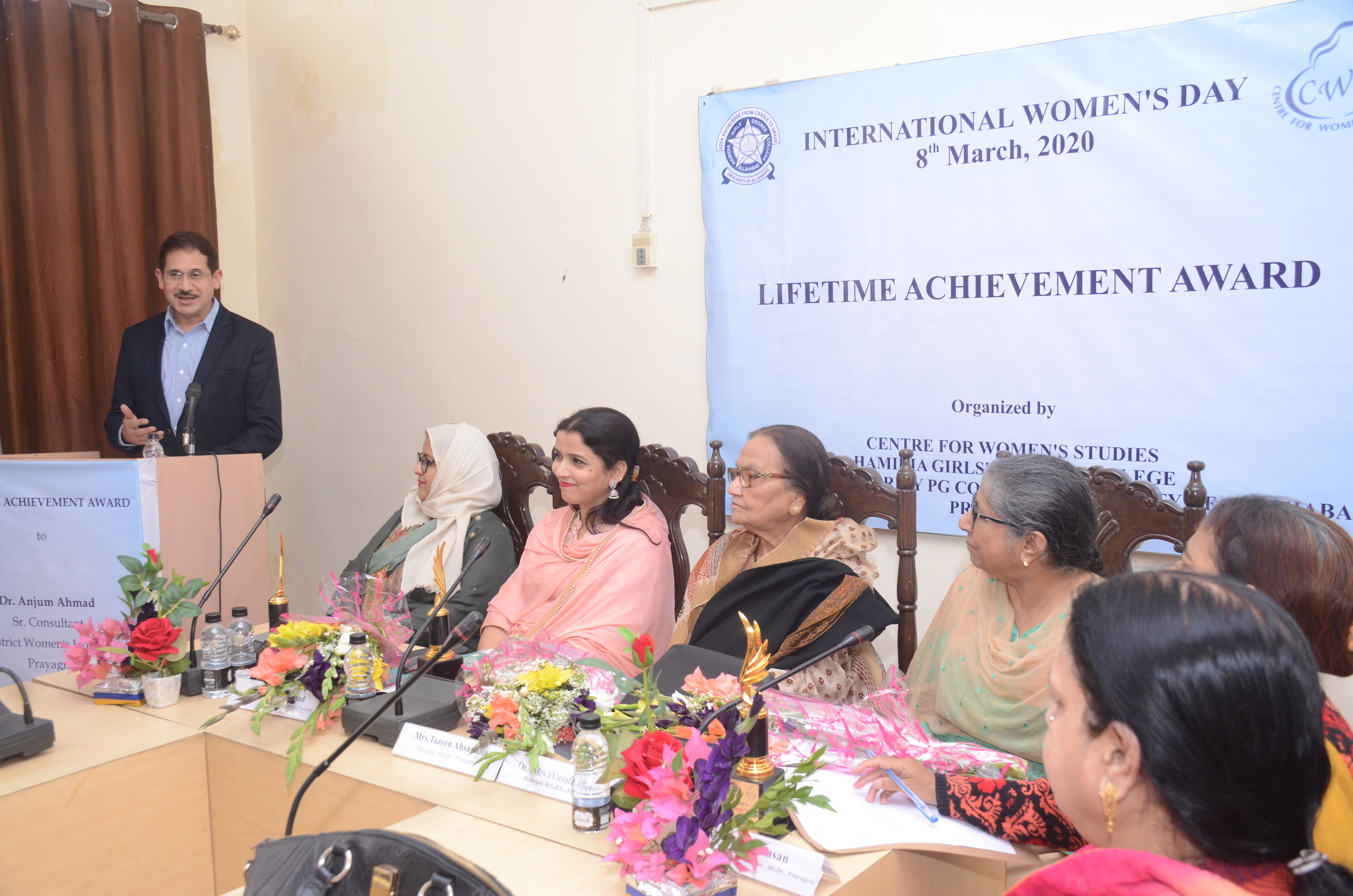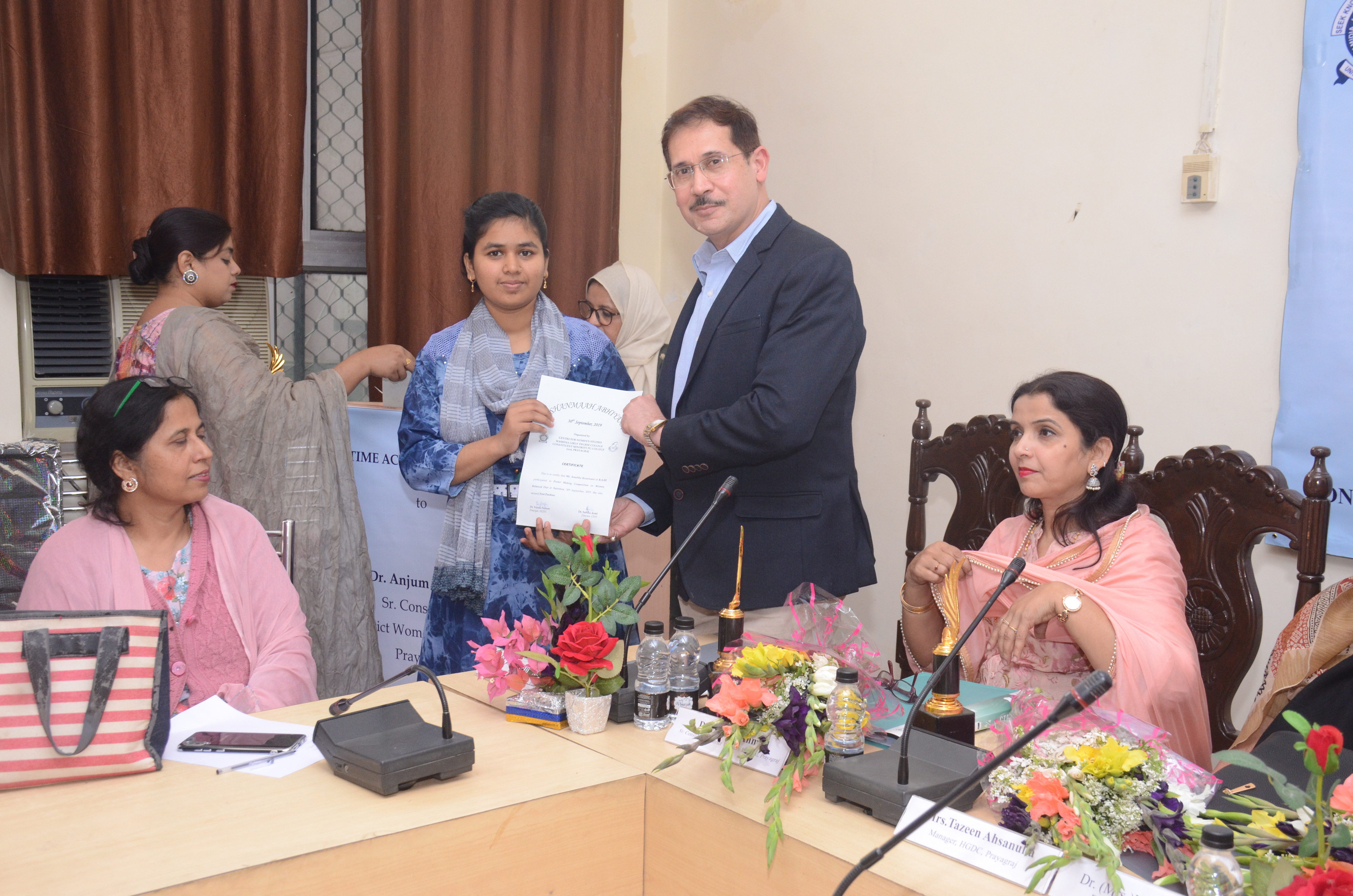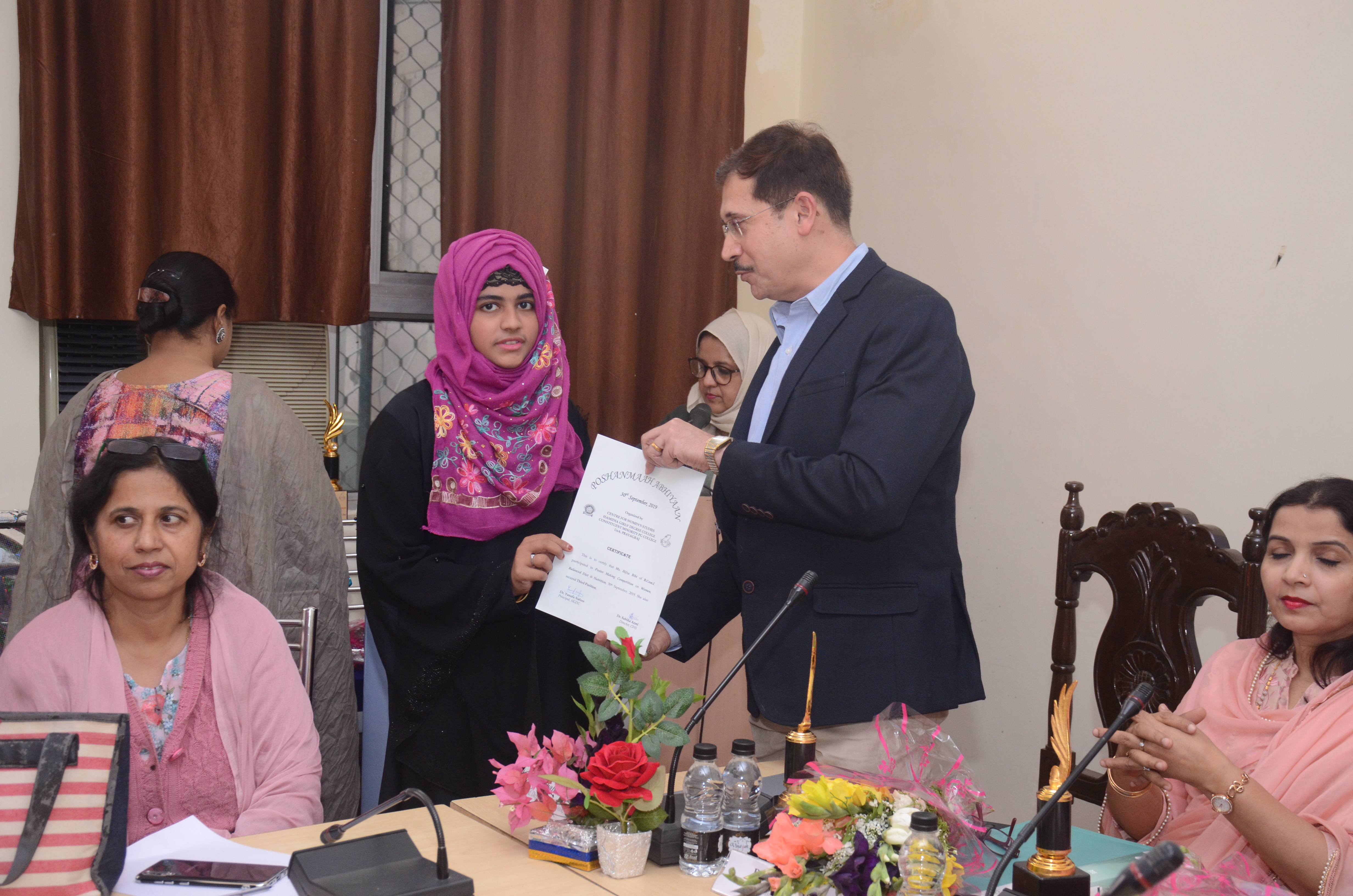 International Women's Day was celebrated at Hamidia Girls' Degree College on 7th March, 2020 by Centre for Women's Studies of the college with fervor and zeal. The programme started with Hamd. Bouquet and memento were presented to the guests. On this occasion Dr. Anjum Ahmad, Sr. Consultant, District Women's Hospital, Prayagraj was felicitated with the Lifetime Achievement Award. She is passionate and zestful towards her profession and follows medical ethics with honesty and complete sincerity. She has offered her dedicated services to the Health Centre established by UGC sponsored Centre for Women's studies at the college from 2010 till date. During this decade she has undertaken 67 health check-up sessions at the CWS, Health Centre and examined approximately 1300 students. Besides this she also supervised a minor research project on Health Problems Among Young Unmarried Girls: Prevention And Management. Dr. Anjum Ahmad appreciated the positive environment of the college. She said that students should identify and develop their potentiality. She stressed that gender discrimination can be removed through development of proper attitude in a family. She emphasized on the point that female are stronger than male. She motivated the students to make achieve their aims and objectives.
Prof. Shabnam Hameed, Head, Dept. of Urdu, University of Allahabad was the Guest of Honour. She gave historical perspectives of women empowerment and stressed that women have always played an important role in various fields. Later on such type of mindset developed which made the women feel weak. While delivering her speech in a humorous manner she said we should change our thinking and develop self confidence. She highlighted that we should not only concerned with our rights but also fulfill our duties. She encouraged students to opt for Civil Services.
Dr. Sarvajeet Mukherjee, Assistant Director, CWS, University of Allahabad also spoke on this occasion. He gave reference of Rashid Jahan, a pioneering doctor, literary figure and writer, engrossed in social issues. He discussed her literary work 'Angare' and said that we should be like a burning coal which can be used for various purposes in different situations. We should be dynamic and active in every perspective so that we can take initiative for the progress of the society. He explained that this day marks a call to take action for acceleration of gender parity. He also distributed certificates to the winners of poster making competition held in Poshan Mah.
Presidential Address was delivered by Mrs. Tazeen Ahsanulla, Manager of the college. She congratulated Dr. Anjum Ahmad for this felicitation. Congratulating the CWS of the college she said that centre should organize such type activities which promotes women empowerment. She encouraged the students to be excel in their field with sincerity, dedication, and efficiency.
Conducting the programme Dr. Sabiha Azmi, Director, CWS, HGDC introduced the theme of International Women's Day 'Each for Equal'. She said that International Women's Day is a global day celebrating the social, economic, cultural and political achievement of women. She said that we should unite for the rights of women and take initiative for gender parity. In order to fulfill this dream Centre for Women Studies of the college is continuously working in the field of health and legal rights of women.
Earlier, Welcome Address was delivered by Dr. Yusufa Nafees, Principal of the college. Describing the personality of Dr. Anjum Ahmad she said that Dr. Anjum Ahmad is a unique combination of humanity and excellence in her field. She said that the foundation of this college was laid with the objective of women empowerment and efforts are continuously made in this direction.  The programme was attended by Mrs. Naima, Mrs. Talat Iqbal, Mrs. Nikhat Tahseen.
Vote of thanks was proposed by Dr. Eram Farid Usmani, Assistant Director, CWS, HGDC. Mrs. Zareena Begum, Associate Professor, Dept. of Urdu, HGDC presented a self-composed Nazm regarding Women Empowerment. Few couplets from her nazm –
Bankar Woh  Faulad  Garam Waar Karegi
Jisne Bhi Kiya Zulm Palatwaar Karegi
Ms. Nikhat Parveen, M.A. (English) expressed her views on women empowerment. The programme ended with National Anthem.